Our process for negotiating a fair settlement with your insurance carrier.
ClaimsProUSA has developed a process of negotiating with your insurance carrier that has been proven, over hundreds of claims, to present your claim in the most compelling terms. Documentation is key, and while other public insurance adjusters may cut corners documenting your case; we believe documentation is critical to servicing our clients.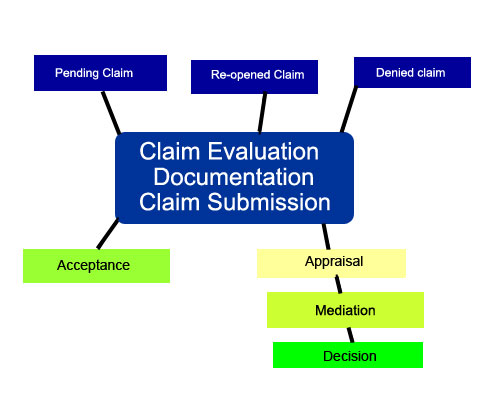 1.THE NEW CLAIM ADJUSTMENT: From the first day of your loss, the public adjusters at ClaimsPro USA will measure and document your damages to present your claim. With our unmatched expertise, we immediately take control of the adjustment process to prevent additional loss of time and to gain a favorable settlement with your insurance carrier. This includes employing experts in the fields of construction, engineering, mold testing and remediation, accounting, and other specialties as deemed necessary. The insurance company will now recognize they are negotiating on a level playing field. We immediately make an on site review of your damage and policy coverage to explain your options. 2.ON GOING OR PENDING CLAIM: You may be in the claim process with a pending settlement offer or partial payment received for your loss. Our experts can review the current claim documentation and if necessary do a complete revaluation. How will you know if the total loss been accurately evaluated unless you seek expert advise from a professional claims adjuster? Remember, you only pay for our services when you collect. 3.SUPPLEMENTAL, RE-OPEN, OR CLAIM DENIAL: Just because you received a settlement check from your carrier, doesn't mean the claim process cannot be re-opened. You may not have been fully compensated. In the case your claim was denied coverage, we will review your coverage and re-open the claim if we believe coverage exists. In the state of Florida you can have as much as 5 years from the date of loss to file a supplemental or additional payment to the original claim. Our expert will review the original loss and look for areas of underpayment, and accuracy. This claim evaluation is done free of charge. 4.APPRAISAL: Appraisal is a provision within the insurance policy contract that offers representation should your claim reach a point where you and your insurance carrier cannot agree as to the terms and value of your loss. We can act as your representative in the appraisal process. 5.MEDIATION: When there is an impasse, most policies allow for mediation where both parties agree to an "umpire" who will mediate the claim and make a binding decision. Each party is expected to share in the costs of the mediation and abide by the decision. Let us demonstrate our process in resolving property damage insurance claims which has been proven over and over in Central Florida and throughout the state.
We're Not Paid Until We Collect
At ClaimsPro USA, we are focused on helping you maximize your claim. Our professional team of Public Claims Adjusters are ready to help you now.

"Thanks ClaimsPro USA for saving my small business"
Hector G. – Orlando, Florida
"Before he even called his insurance company, Mark called ClaimsProUsa Licensed Public Adjusters. ClaimsProUsa helped Mark collect over $320,000 to cover his damage. $320,000 was also the policy limit. In this case, there truly was no settling for less!"
Mark B. – Orlando, FL
"ClaimsProUsa's Licensed Public Adjusters were already handling the claim for the actual damage to the property. At the strategically right time in the process, a Loss of Use claim was filed as well. As you may imagine, the insurance company offered absolutely nothing at first. The insurance company finally agreed to a settlement that ClaimsProUsa offered and Pedro collected a large percentage of his "lost" rent."
Pedro, a Landlord – Orlando, Florida